To find school teacher jobs in Leicester, click on a vacancy title for more detail from the teaching recruitment agency or UK education provider. This site contains employment and career opportunities for qualified nursery / pre-school, primary / infant, secondary / junior or special educational needs (SEN) teaching professionals in areas that include Leicester and other areas of Great Britain (England, Wales, Scotland) and Northern Ireland.
[omnifeed rss_feed_url="http://rss.careerjet.co.uk/rss?s=teacher&l=Leicester&lid=140479&affid=f327b6f7c5f125c34aab03631d1713ee&psz=20&snl=100″]
Teaching Recruitment in Leicester
Simply Education
---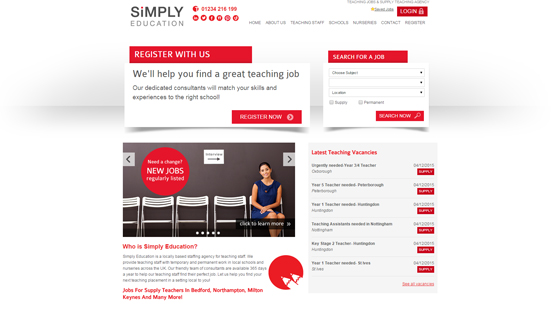 ---
Rutland House
Executive Business Centre
Leicester,
LE1 5QQ
01163 120 067
https://www.simplyeducation.co.uk/
The Teaching Team Ltd
---
---
Unit 12
Linwood Workshops
Linwood Lane
Leicester
LE2 6QJ
0116 283 2200
http://www.theteachingteam.co.uk/
Developing Your Potential
---
---
Unit B,
Parkers Office Court,
Leicester
LE3 3AS,
+44 116 289 0989
http://www.developingyourpotentialrec.org/
This site contains school teacher job vacancies Leicester and other areas of the UK – England, Wales, Scotland and Northern Ireland. Advertised Leicester job vacancies have included positions for fully qualified or part-qualified teachers from nurseries and pre-schools, infant and primary schools, junior and secondary schools or SEN – special educational needs schools, as well as general personal / staffing services and specialist teaching employment agencies.